At the start of last year, Dogecoin's rising development activity was the talk of the crypto town. And with Elon Musk hosting SNL in May, along with the price rise, this metric too kept attaining new highs.
In fact, as illustrated below, when the state of this fundamental metric has improved, DOGE's price has also reacted positively. However, over the past few weeks, this has not been the case.
During the initial half of May, the project's development activity consistently rose and formed a multi-month high. The asset's price, on the other hand, dropped from $0.1346 to $0.0873 in the same time frame.


Similarly, for the most part of last year, whenever Dogecoin's transaction count peaked, the asset's price followed suit. Per data from Messari, as the transaction count rose from 20.1k to 34.4k in the May to June period in 2021, DOGE increased in value from $0.302 to $0.423.
Likewise, October's transaction count pump from 23.1k to 54.6k made DOGE jump from $0.25 to $0.30 in just a matter of days.
Over the last couple of days, the state of this metric has notched up from 18.5k to 21.4k, but Dogecoin hasn't been able to put a stop to its losses. In the same period, the price of DOGE has already tumbled from $0.845 to $0.829.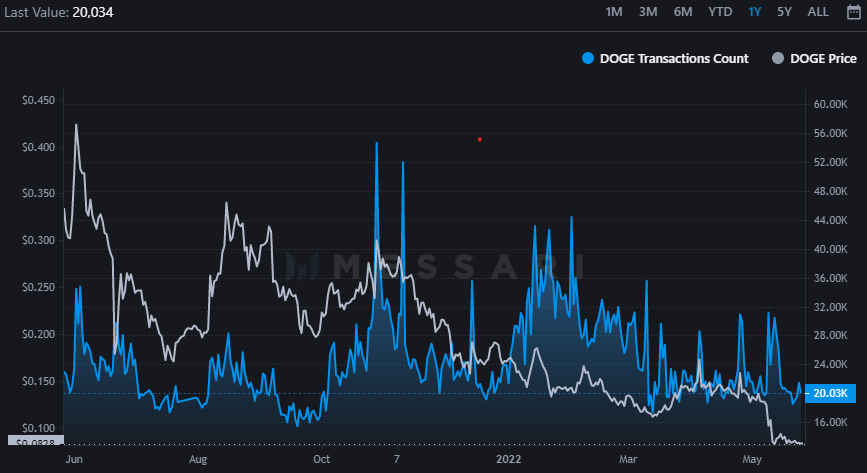 So, what's missing?
Well, Dogecoin rallies in the past have all been sort of triggered and instigated by the self-proclaimed Dogefather, Elon Musk. Even if not so, he has at least made it a point to shower his blessings on Dogecoin via random tweets during Dogecoin's dry spell phases and the same has, more often than not, proven to be effective.
So at this stage, perhaps, the Musk factor is the only missing ingredient and an out-of-the-blue prompt from him has the potential to alter DOGE's fate completely. if this were to happen, the crowd euphoria could then propel Dogecoin towards $1.00 .