Many tech-savvy people from the meme-space in the crypto world eagerly await attention-grasping and eyeball-grabbing events to take place to launch new tokens. On any given day, sentiment plays a crucial role in establishing a directional bias for the price of an asset, and "tech-bros" tend to capitalize on the very same herd hype.
Well, there's a new coin in Crypto-town, and people have already gone bonkers about it. "Follow the charts, and they'll take you to places," they say. But, this project has delivered beyond that. Don't believe me? Then hear it from the investors themselves.
Investors go from rags to riches
On CMC, a particular user with the username "alex0077" claimed to have made almost 10k [probably in USD] by investing in this project. Wish him a bon voyage because he is all set to go on a summer vacation and chill.
In fact, a host of other people too had minted similar amounts. "bazzfox," for instance, managed to convert his initial investment of $100 to $10k. As soon as his target was achieved, he sold out.


Pretty appealing, right? So, what does this mean – Did you just miss a lifetime opportunity to become the next millionaire, or perhaps even a billionaire? If you just whispered, "damn, yes" to yourself, then gotcha!
We're still in the month of April, and I guess, I hit the nail right on the fool's head!
The great-grand-musky reveal
Well well well, "this project" and "this token" has a name. If you already managed to join the dots and have an answer by now, then kudos, detective. Even if you're clueless, worry not, just follow along.
The most recent "attention-grasping and eyeball-grabbing" event, of course, was Elon Musk and his Twitter acquisition deal. Cashing in on the hype of the mega-event, a token named "ELON BUYS TWITTER" under the token "EBT" was launched.
Curiously, the token was brought to life on 21 April, days before the Tesla exec actually bought Twitter.
Before proceeding with other details, let us first quickly delve into the nitty-gritty of EBT. Per the project's description on CMC, ELON BUYS TWITTER gives meme creators a chance to earn and gain a stipulated revenue for their work.
"ELONBUYSTWITTER will help such aspiring meme creators showcase their talent to the world and add some monetary benefits to their pockets."
The project is in the process of developing "several" revenue-generating platforms. Its ecosystem will also launch a series of "melon-based lazy games" and provide users with play-to-earn opportunities.
As far as the project's long-term goal is concerned, ELON BUYS TWITTER intends to establish itself as an "industry leader" in the emerging DeFi sector.
Bulls guide EBT to the moon
Now, even though the hype associated with Musk and the said deal has already been punctured, people remain to be bullish and expect a lot from the token, and the project, going forward.
A particular user affirmatively claimed that EBT will become the "official crypto" of decentralized Twitter.


With respect to the price too, investors feel that EBT has a "very good potential" to become the next big thing in the meme-space.


In fact, a few market participants continue to believe that they'd become "millionaires" in a day because token presents to the community a "life-changing opportunity."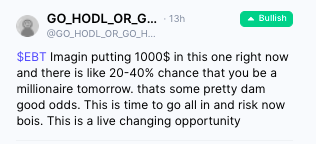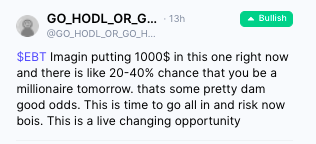 At this stage, the community optimism is far from reaching its saturation point. A common belief amongst HODLers is that EBT has the potential "explode" like Shiba Inu (SHIB).


While the rest, have already given it the "next DOGE" tag and have warned other market participants not to be late.


ELON BUYS TWITTER ain't worth $44 billion!
The Elon deal's price tag was, of course, $44 billion, but ELON BUYS TWITTER's value is comparatively peanuts.
Let's rewind a little. The token was launched on 21 April. Musk bought Twitter on 25 April, and within a day after the deal was sealed, the token rallied by more than 10,500%.
Yesterday, around this time, EBT was trading in green at $0.000004138, up by 221% in the day's trade. At press time, the token was valued merely $0.000001263, down by 69% over the past 24-hours.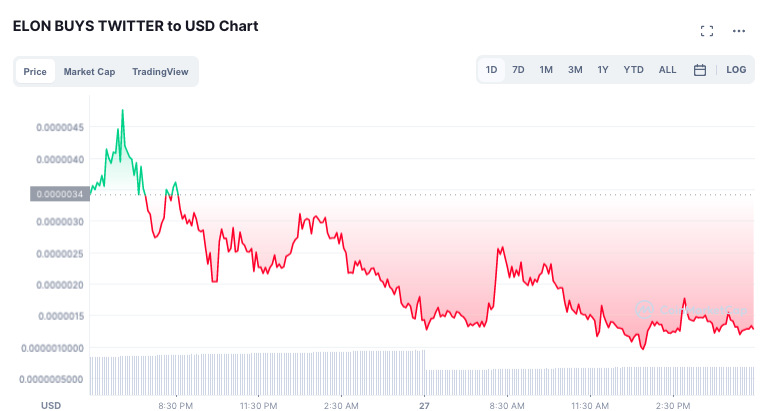 Knock knock, history says hi!
At this stage, it is worth recalling that back last month when actor Will Smith slapped comedian Chris Rock at the Oscars, the audience was taken aback. Memes started circulating almost immediately, and the said event eventually became the talk of the town.
Within no time, a slap-dedicated token called Will Smith Inu was launched. The project managed to garner a mass-traction, and in a period of less than 24-hours, it spiked by more than 250%.
Fast forward to today, CMC has already received multiple reports stating that the project domain is currently on the MetaMask domain warning list. As a result, the whereabouts of the project remains to be untracked.
Even before that, when the Squid Game hype was at its peak, the SQUID token massively pumped in value but was soon allegedly blamed for rug pulling.
Did you learn your lessons well?
Evidently, the launch of ELON BUYS TWITTER seems to be quite similar to the aforementioned past precedents. Despite its initial 10,500% pump, the token has already lost most of its value. When viewed with a wider lens, only blood can be found all across the floor. Perhaps some of the investors should have read this article first?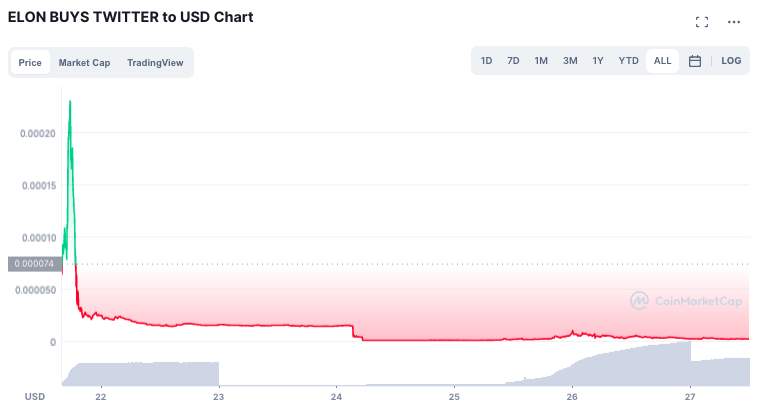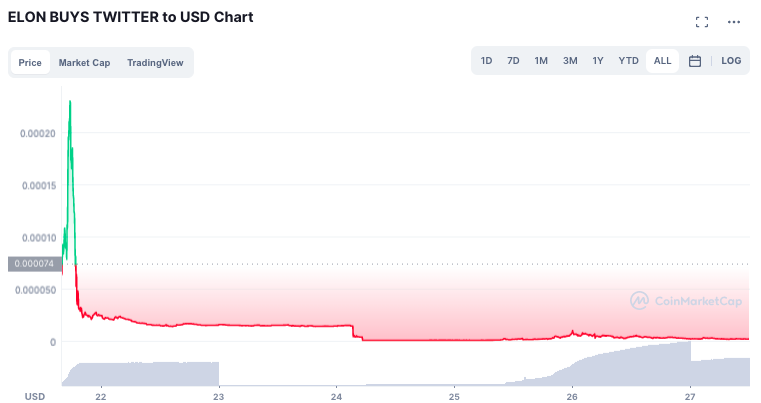 At this stage, EBT's shoulders must be already aching owing to the expectation burden it has been carrying all this while. If not nourished properly, it might never be heard of ever again, for it has already tumbled and lost most of its value.
As always, the golden rule remains to be DYOR before investing in such pump-and-dump projects. Again, if you don't buy my words, then, take it from your buddy investor itself: