Memecoins have been especially negatively impacted by the recent downturn in crypto markets. With Bitcoin dropping down from $40K last week, significant losses have been accrued for Saitama as short traders have rampaged over it. While downside risks were still intact (as shown by the daily indicators), the market could be exposed to another 80% drop should there be a close below immediate support.
Satiama Daily Chart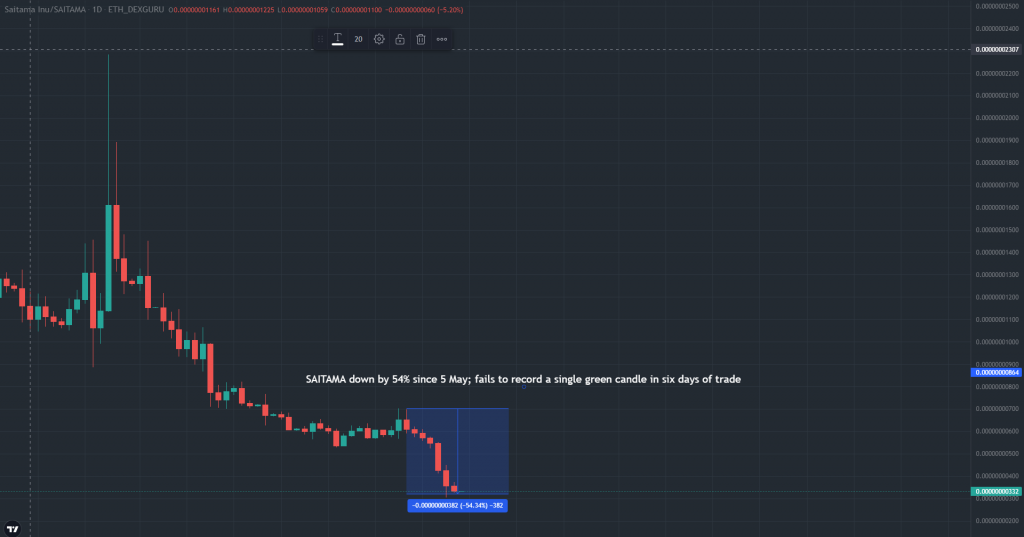 Saitama's daily chart was quickly becoming a pit stop for short traders. Recent corrections in the crypto market were particularly brutal for SAITAMA, which recorded over a 50% decline between 4-9 May. The shortage of buyers was keenly felt on 10 May 2022, when despite the broader market recovering slightly, Saitama failed to record a single green candle.
However, during such a downtrend it is necessary to look beyond price, and gauge how the entire ecosystem is faring. Arguably, the biggest update on the ecosystem has been a native token launched in March, Saita Realty.
Saitama's price spiked by 44% during Saita Realty's launch in March 2022, suggesting that investors were bullish about the ecosystem's new native token. However, Saita Realty has not yet proven to be a long-term driver for growth. This may be in part due to several liquidity issues post-launch and several accounts of failed transactions from users.
Saitama Price Prediction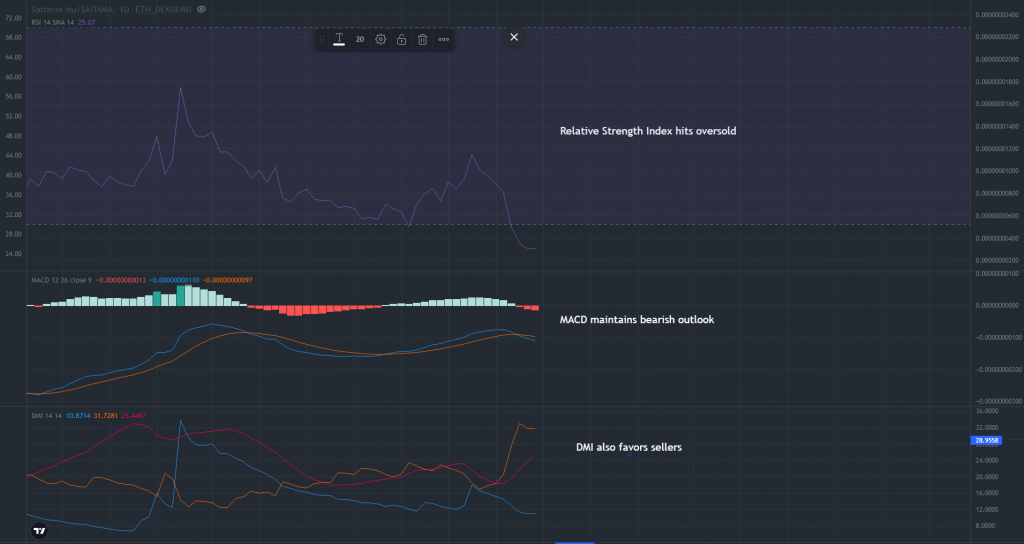 Recently, the short-mid term outlook for Saitama remained bearish. The daily MACD flashed a sell signal yesterday and downside risks were intact. The Directional Movement Index also presented a similar outlook as its -DI line (orange) held above the +DI line(blue) – an unwanted development for bullish traders.
The only positive came from an oversold RSI which does tend to trigger buy orders. However, the 24-hour trading volumes of just $5.1 Million suggested that traders were keeping their distance from Saitama's press-time level.
These developments leave Saitama in a tough spot on the daily chart. Should a daily candle close below $0.0000000260, Saitama would be exposed to another 80% since the next logical support was available only at $0.0000000080.
To negate this outlook, it was important for Saitama to shift back above its 9-period EMA (not shown) at $0.0000000430 – something which Saitama has failed to do in nearly two months.